OPEN
9:00 - 17:00 *Aquarium reception closes at 4pm.
There are temporary closed days for facility maintenance and inspection.
※Business hours will be extended from Saturday, March 19th to Sunday,
April 3rd.Please check this out for details.


TICKET PRICES
Applicable from October 1st, 2019
Adults
Elementary and
junior high school
students
Young children
Under 4 years
Individuals
1,420 yen
710 yen
400 yen
Free
Groups(20 people or more)
1,140 yen
570 yen
320 yen
Annual Passport
3,560 yen
1,730 yen
1,010 yen
School rates
High school students:560yen, Junior high school students:490yen
Elementary school students:350yen, Young children:280yen
* School rates are applied to student groups who visit Miyajima Public Aquarium for school events such as excursions or trips. School teachers or staff who lead such student groups are admitted free of charge.
* Young children refer to preschool children aged 4 or above.
* 50% exempted rates are applied to the holders of the identification booklet for physically disabled, mental disability certificate, or Nursing Handbook for People with Disabilities. Their caretakers will be exempted of charge (up to 1 caretaker per booklet/certificate/handbook holder).
ACCESS
10-3, Miyajima-cho, Hatsukaichi-shi, Hiroshima Japan 739-0534
TEL : +81 829-44-2010 FAX : +81 829-44-0693
By car
Approximately 3km from either Hatsukaichi IC or Ono IC (Sanyo Express Way or Hiroshima-Iwakuni Road) to Miyajimaguchi.
Public transport
JR Hiroshima station →

Miyajimaguchi (Approximately 25 minutes by JR Sanyo line / Approximately 68 minutes by Hiroshima Electric Railway main line to Miyajima line
Miyajimaguchi → Miyajima Pier (ferry) (Approximately 10 minutes by JR West Miyajima Ferry or Miyajima Matsudai Kisen Tourist Ship)
Miyajima Pier → Miyajima Public Aquarium (Approximately 25 minutes by foot / Approximately 10 minutes by shared taxi or taxi)
MAP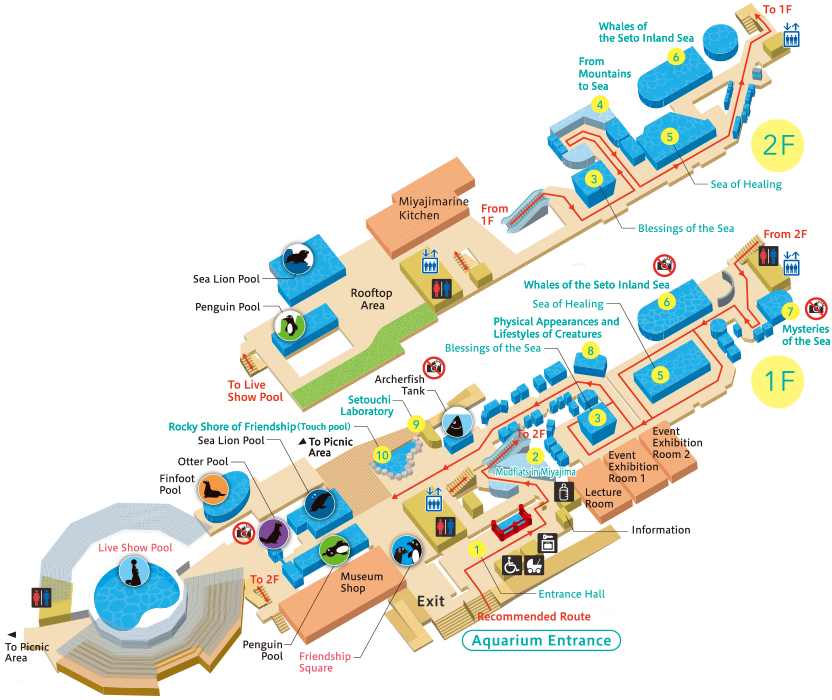 1F
Aquarium Entrance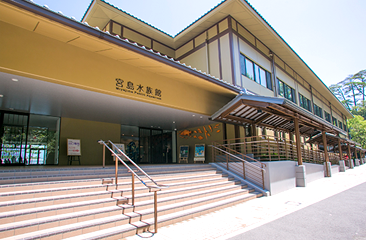 ①Entrance Hall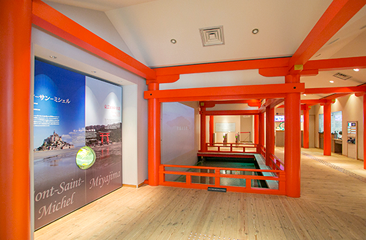 ②Mudflats in Miyajima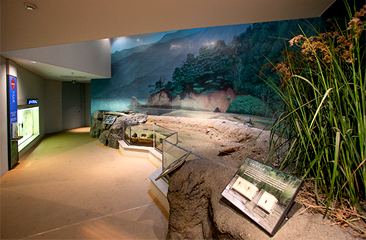 ⑤Sea of Healing(1F)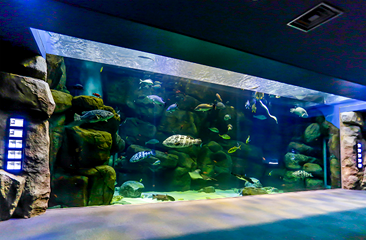 ⑥Whales of the Seto Inland Sea(1F)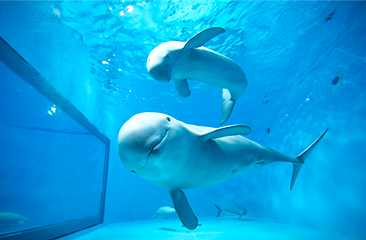 ⑦Mysteries of the Sea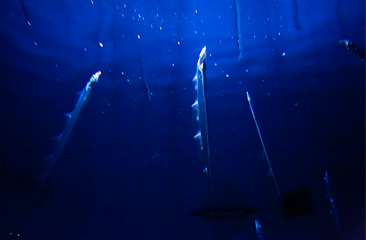 ③Blessings of the Sea(1F)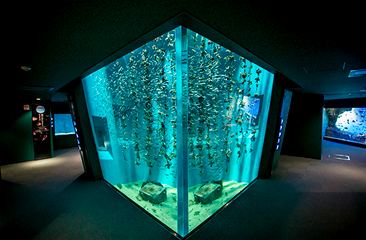 ⑧Physical Appearances and Lifestyle of Creatures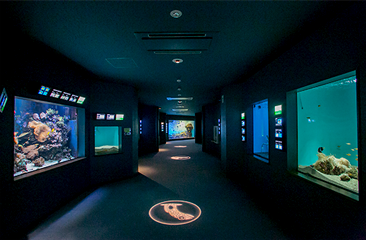 Archerfish Tank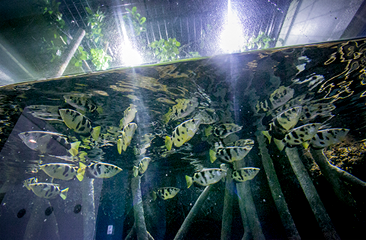 ⑨Setouchi Laboratory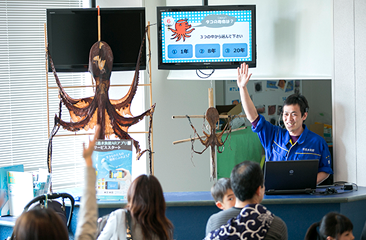 ⑩Rocky Shore of Friendship(Touch pool)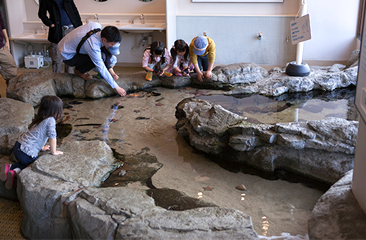 Friendship Square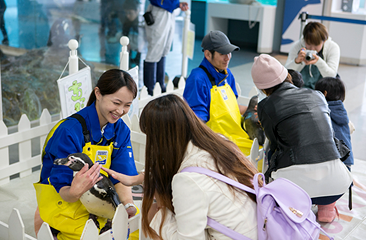 Sea Lion Pool(1F)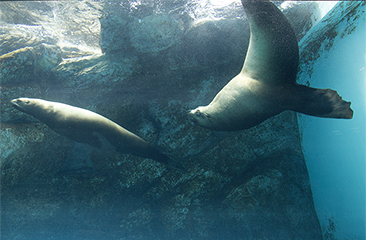 Penguin Pool(1F)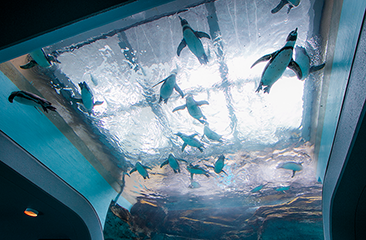 Otter Pool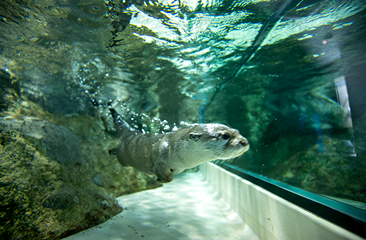 Finfoot Pool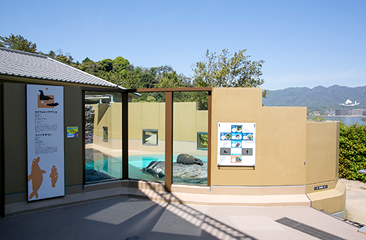 Live Show Pool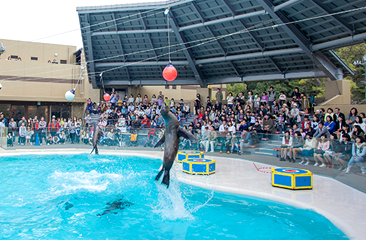 Picnic Area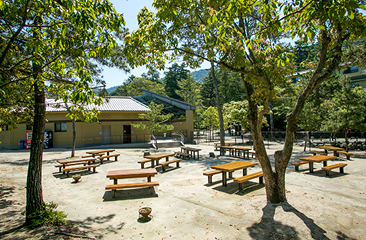 Museum Shop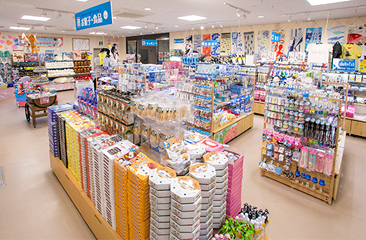 2F
③Blessings of the Sea(2F)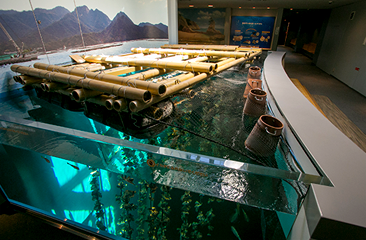 ④From Mountains to Sea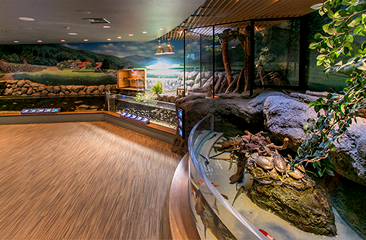 ⑤Sea of Healing(2F)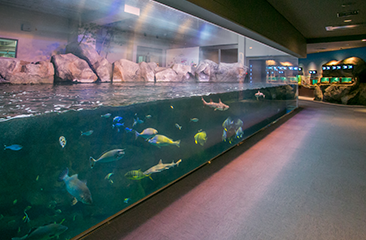 ⑥Whales of the Seto Inland Sea(2F)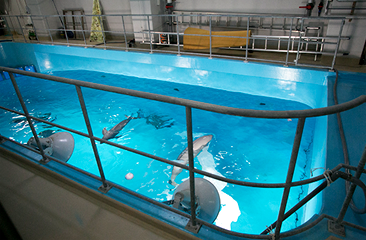 Penguin Pool(2F)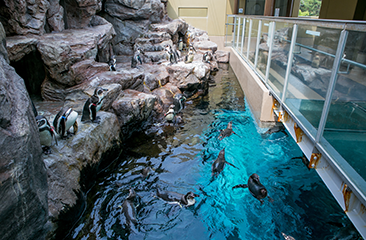 Sea Lion Pool(2F)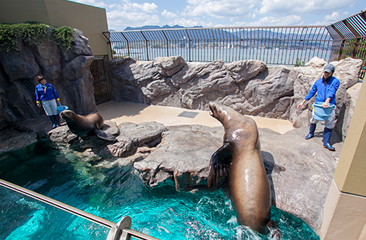 Miyajimarine Kitchen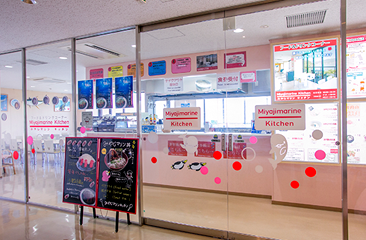 EVENT
Week Day schedule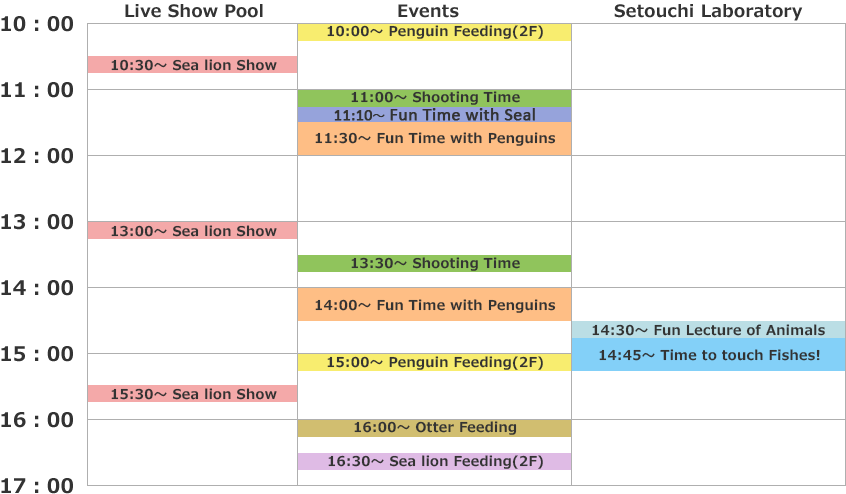 ※Schedule might change or cancel Please acknowledge it.

Saturday/Sunday/Holiday schedule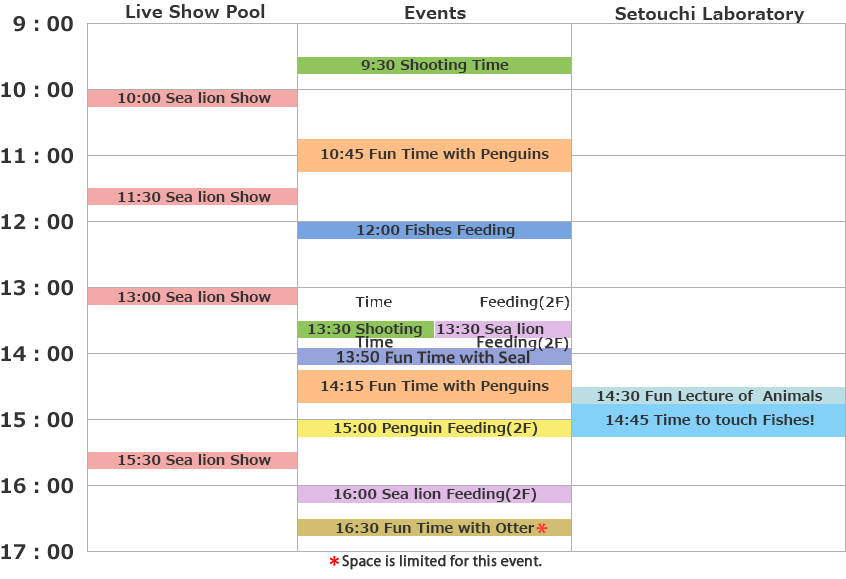 ※Schedule might change or cancel Please acknowledge it.

Sea lion Show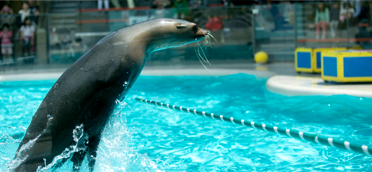 Fun Time with Penguins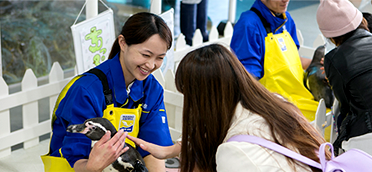 Shooting Time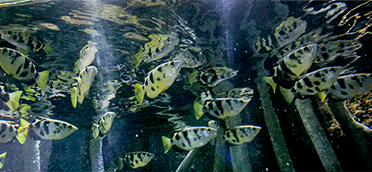 Penguin Feeding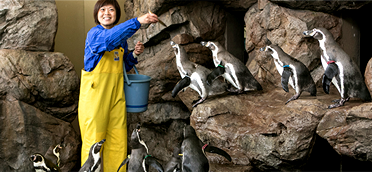 Otter Feeding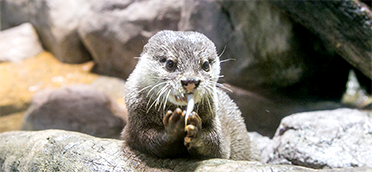 Sea lion Feeding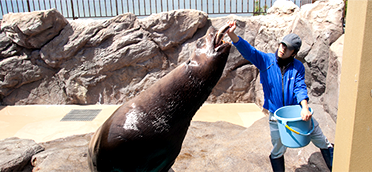 Fishes Feeding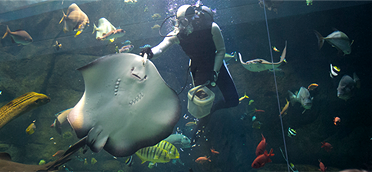 Fun Lecture of Animals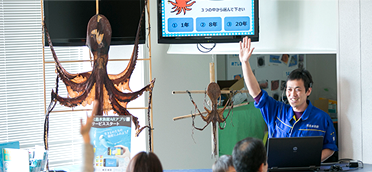 Time to touch Fishes!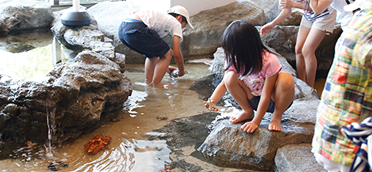 Fun Time with Otter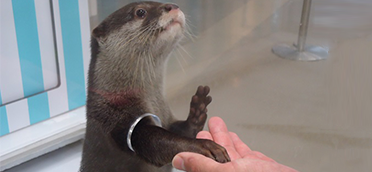 Fun Time with Seal